Music and millennials: 'generation selfie' loves music, but there's lots to learn from brands in terms of how we engage with them
the hub's new research into student music habits and attitudes shows that live and recorded music continues to be a big part of most students' lives, but there's lots that those working in music could learn from brands around engaging with their fans and audiences. So say the hub's Director, Julia Payne, and YouthSight's Director of Youth Research and Insight, Josephine Hansom. 
For the last 18 months, the team at the hub has been running a project called Joining the Dots, which is all about how musicians and promoters in the 'beyond the mainstream' music sector can make more viable livings from the music they love. A key part of this has been looking at how venues and promoters can build younger audiences. In May this year, the hub teamed up with YouthSight, the go to agency for brands wanting to understand how to engage with that all important youth market, on a new study, called Soundtrack to Student Life, which set out to examine the music habits of today's students, and the role that music plays in their lives. We interviewed 1,009 students from a representative sample of UK universities, with all students sourced from the YouthSight's own research panel. Last week, Julia and YouthSight's Josephine Hansom presented our findings to a 200-strong audience at the hub's One Dayer – Independent Music, Money & Tech event. You can see the video of that here.
The findings are compelling not only in their own right, but also in terms of spotlighting some trends those working in music need to get inside, and what those working in live music could do well to learn from their marketing companions in brands.
HERE ARE THE HEADLINE FINDINGS FROM THE SURVEY
Before we share these with you, it's worth holding this number in your head: 1,759,915. That's the total number of undergraduate students in the UK, and worth bearing in mind when you look at some of the percentages we mention below. They add up to a lot of students! With that in your mind, take a look at the headlines…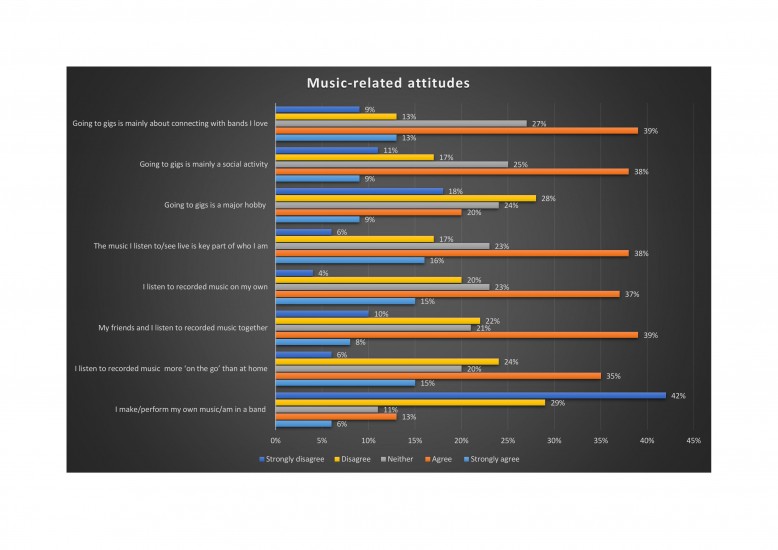 For most students, music is a key part of their identity
We all have our own 'soundtracks to our lives', and it seems the students here are no different. For many, music is key to their self-identity, with over half (54%) saying that the music that they listen to 'is a key part of who I am'. Suddenly, we're reminded all over again of how crucial our friends' listening habits and likes were, in terms of informing what we listened to in our damp student bedrooms, and who we went to see in our favourite sticky-floored venues!
Live music is a big part of most students' lives, and for nearly a third it's their major hobby
Live music is a big part of their life for a lot of the students we surveyed – far more than we think it is for the majority of the population. Just over half (51%) had been to a live music gig in the past year, and close to a third (29%) to a music festival. And just under a third (29%) said that going to live gigs was their 'major hobby'.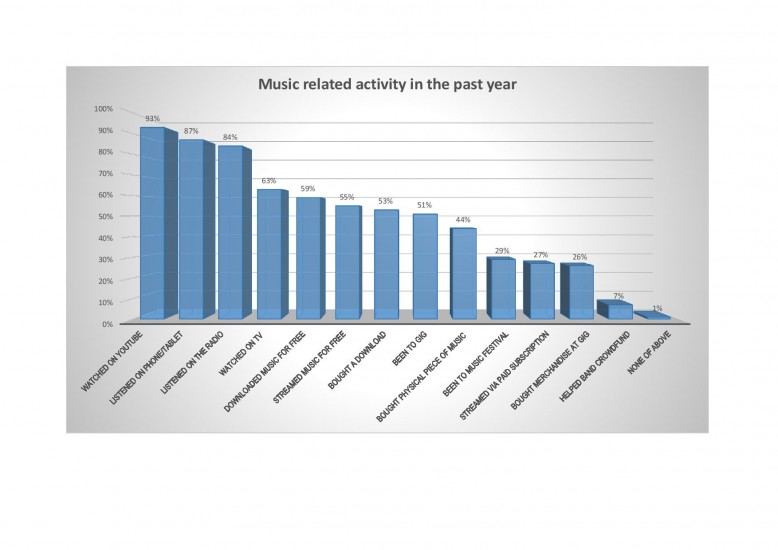 They listen to, and watch, a lot of recorded music – across a variety of platforms, at home and on the go
It wasn't that surprising to discover that nearly all of the students (93%) we surveyed had watched music on YouTube in the past year, or that 87% had listened on their phones or tablets. However, there was definitely something of an intake of breathe here at hub towers when we heard that only a slightly smaller proportion (84%) had listened to it on the radio during the same period. The spirit of John Peel lives on – hurray!
It seems that student life means that students are perhaps more likely to listen to recorded music with others than the rest of us; around half of them (47%) said that listening to recorded music with their friends was a key part of their social lives.
Around half had paid to own a piece of music in the past year
Now this is where it got really interesting for us. That nearly half (44%) of students surveyed had bought a physical piece of music (so a CD, piece of vinyl, a score or – surely not – a cassette) was perhaps the research finding that most surprised us. Good to know students are still desperate to own an original Nick Drake album – or maybe today's nostalgia is more about owning Parklife on vinyl?
Looking at digital music spending, again just over half (53%) had bought a music download in the past (with 59% having downloaded some music for free). In contrast, just 27% had elected to pay for a subscription to a streaming service, with over half (55%) preferring instead to listen to the ads and not pay for their streaming. Perhaps ownership – owning particular pieces of music, rather than streaming them – is key for these students, meaning that they've got a deeper, more 'real' connection with the bands and artists they love?
Students in London – slightly less engaged and less likely to spend
There's been a lot of talk in recent months about 'London versus the regions'. Our study paints a slightly gloomier picture for those promoting or playing in London; it seems that students based in London spend less time and money on music than their counterparts elsewhere. Just 38% had been to a gig in the past year (compared to 51% overall), and fewer of them had spent money on physical pieces of music, music downloads and streaming subscriptions. It's not all doom and gloom though; they were also slightly more likely to view going to gigs as a major hobby, suggesting maybe that there's a hardcore who get out to gigs on a regular basis.
WHAT TRENDS TO WE NEED TO BE INSIDE, AND WHAT MIGHT WE LEARN FROM BRANDS?
Music is clearly still a big part of student identity; they still pay for music and they regularly go to gigs to see the bands that they love. In anyone's book that reads as a passion for music. But times – and students' lives, expectations, needs and behaviour – are changing. So here are three big trends that we think people working in independent music need to spend a bit of time thinking about, and working out their response to.
First, we need to get better at developing reciprocal relationships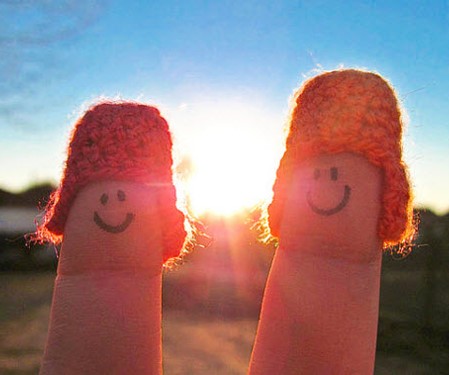 Connecting with young people today is not about gaining access to them. Simply collecting likes or followers won't work because you won't have their attention; young people are very adept at not listening and just carrying on, and very savvy.
The key to the reciprocal relationship is give and take. Young people need to want you too, there needs to be common ground, something that can link you both, in an authentic way. The way that young people interact with brands today is much more personal these days; it really is like a relationship. Also, young people are very visual; for them, YouTube is the go to search engine after Google to explain what Wikipedia can't.
That's why vloggers have such powerful relationships with their followers; they speak directly to camera, making the viewer feel like they are part of a genuine conversation and part of a reciprocal relationship. And remember, all these vloggers are popular in their own right but they're also marketing machines, with sponsorship deals that many an established celebrity would die for.
We need to understand that, for 'generation' selfie, experience is the new status symbol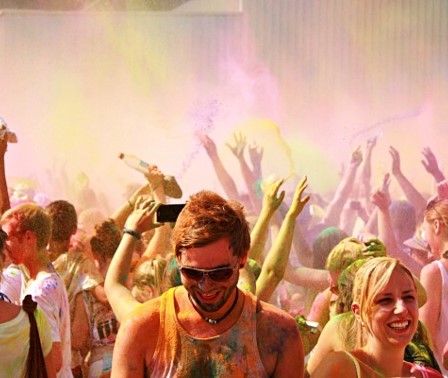 Growing up in a recession, status symbols that were important to previous generations, like trainers, watches or handbags, were simply out of reach for the majority of millennials.
However, what this generation does have more than any other, is the ability to share their lives. The selfie generation was born.
For generation selfie, the stream has become the new status symbol, and the stream of images that you flick through on twitter, Instagram or Facebook, are the experiences that you have and that define you and your identity. No one cares about your degree, your job or where you live. What is the mantra of the selfie generation? Well, it's that experiences need to be sharable otherwise what's the point?
We need to find a way that young people can 'own the moment' at our events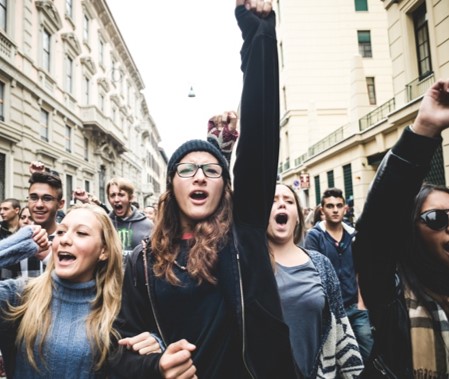 Young people are very future focused. Climate change is a reality for them, not just a theory. Education comes with a £40k price tag, a debt that must be accepted at the age of 18. Life is a lot more serious for millennials than it was for previous generations.
So 'owning the moment' is an emotive play that clever marketers are using to make their products stand out and be associated with a cause. Brands are looking to the real life of young people and seeking to help them, or engage with them, at crucial times. Instead of creating an artificial, airbrushed lifestyle to aspire to, brands are looking to play a more grassroots role in young people's lives. An example of this last year was the Your Place…Your Space competition which was run by Kiss and giff gaff. Young people entered the competition by creating short-form video or posting a Twitter or Instagram along with the reason they deserve to win the prize – one year's free rent!
It's not just about owning the moment, it's also about being part of the moment and influencing the moment. Young people want a fair relationship that offers an experience to share and a moment for them to buy into
SO WHAT DOES THIS ALL MEAN FOR THOSE WHO WORK IN MUSIC? HERE'S A PROVOCATION
The world is changing. We all know that.
We're moving into an era where we won't need to buy so much. 3D printers will have become more mainstream and we will be able to manufacture what we want, when we want it. Marketers will need to think long and hard about what they do next. Traditional campaigns will no longer work; they will need to redefine their field.
But some things will remain the same.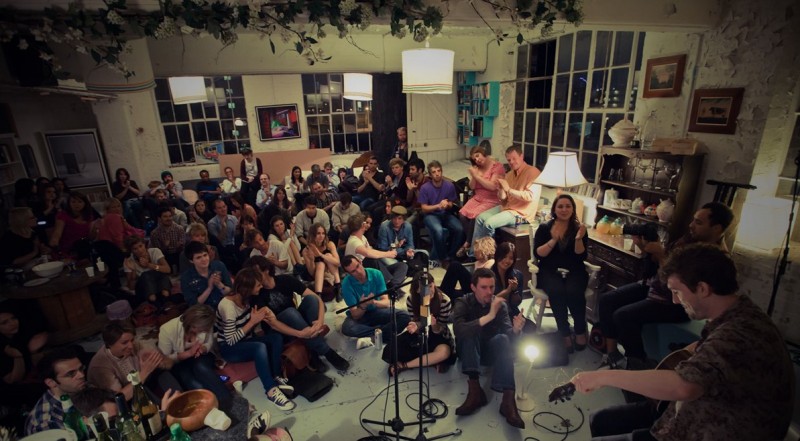 Music will continue to offer authentic experiences as well as meaningful moments.
We can all agree on that.
The dilemma for some of us who work in the music sector, or with people who work in it, is that that means that brands increasingly will want to own the experience and the moment of live music. And the question is, is this a threat or an opportunity?
If you would like to see the full data set relating to this study, so that you can apply it to your own audience development work, please email [email protected] In the meantime, check out this one page summary.