Phrased & Confused presents Hannah Sliva: Shlock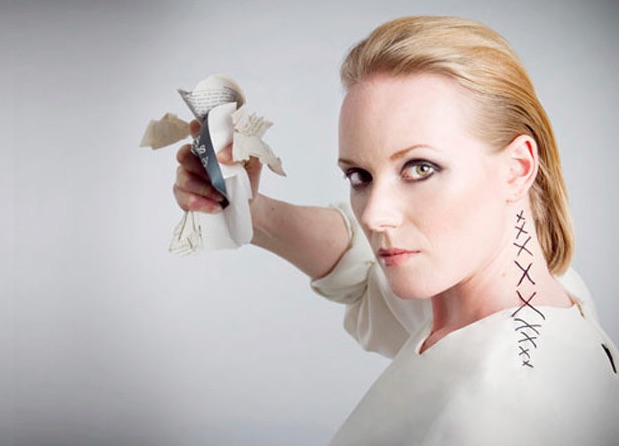 Unity Theatre
, 27 October 2015
Hannah Silva presents her powerful show Shlock! as part of our Phrased & Confused season at Unity Theatre, Liverpool on Tuesday the 27th October.
Hannah Silva (together with drummer Alex Kirke) was commissioned by Phrased and Confused back in 2009 to create a new work for the Summer Sundae festival, which you can read more about here. Now she's back with her show Schlock!, a powerful and submersive new solo performance, produced by our friends over at Penned in the Margins.
In the grand tradition of literary terrorism, Hannah has ripped up her copy of Fifty Shades of Grey and now, surrounded by the crumpled pages and with the help of radical punk-pirate Kathy Acker, she attempts to put the female body back together. Join them on a journey through texts and voices pregnant with pain and pleasure, mothers and babies, domination and submission. In a performance as strange as it is beautiful, we discover there are no safe words.
Reviews
Schlock! is a whip-smart but irresistibly seductive tour de force from the always astonishing Hannah Silva: a high-risk entanglement of limbs and lines, a restless toss-and-turn of tongue meeting text in the heat of strangeness and the dark heart of desire. Chris Goode
Weird and unsettling … authentic and deeply considered. Miriam Gillinson, Exeunt Magazine
A remarkable piece, richly suggestive, enveloping and sensual but also smart and edgy enough to leave the odd papercut! Maddy Costa
Rendered through spoken word, vocal loops, articulation techniques, off-kilter screened subtitles, and sections performed entirely in British Sign Language, Schlock! is a captivating and disconcerting experience. NARC. Magazine
Here's more from Hannah, in an excerpt from a previous show Opposition, like Schlock! full of Hannah's trademark musical daring with words, a one woman orchestra!
You can book tickets for the performance here