Phrased & Confused presents Jess Green: Burning Books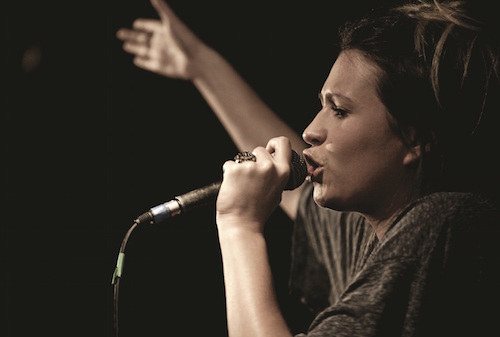 Unity Theatre
, 15 October 2015
We're excited to announce that Phrased & Confused is back, with a new season at Liverpool's Unity Theatre this Autumn!
Jess Green launches the new series of gigs with her show Burning Books on Tuesday 13th October at 8pm.
Brilliant – I loved it – Josie Long
Janine, a tired-out sixty-something fights for her pension on a picket line while Kev, the newly qualified graduate, angrily defends his right to support Movember. Meanwhile, Sandra the librarian surreptitiously removes 'unsuitable' books and takes them to the tip, secretly watched by her assistant.
At a time when public sector budgets are stretched to breaking point and teachers feel the finger of blame firmly on their heads, Jess Green tells the stories of these everyday underdogs with passionate and lyrical spoken word poetry – underscored by a rousing musical soundtrack from her band, The Mischief Thieves, on acoustic guitar and cajon.
Burning Books is a powerful, humorous and highly topical social commentary on the state of education and the teachers and students who survive within it.

Read Jess's interviews in the Independent, The Guardian and the Huffington Post
You can buy tickets for Jess Green: Burning Books on Tuesday 13th October here

Praise for Burning Books
"Grippingly inventive and immensely touching. Green's voice is urgent, important and immensely enjoyable; she deserves to be heard" – Broadway Baby
"Brilliant. Her words have certainly struck a chord with teachers" – Huffington Post
"An internet sensation" – The Independent
"Somehow, Jess manages to be hard hitting in a way that's so subtle you don't realise until the bruises come up. Amazing to watch!" – Scroobius Pip
"I loved this passionate and lyrical show – everyone should go and see it – especially Michael Gove!" – Kate Fox
www.jessgreenpoet.com
@greenellenjess #burningbooks