Cafe Oto wants to make the unique and adventurous music it presents live available to all
Cafe Oto is the UK's only dedicated space for the performance of experimental music. It's also one of nicest, friendliest and intimate venues you'll come across. Oh, and they run a brilliant little label too. No wonder musicians from around the world congregate in this little corner of east London to play and collaborate with, and listen to, each other. With the help of  our Joining the Dots programme, the Cafe Oto team has taken forward a new digital membership service  powered by the audio recordings they make of the music performed in the space.
John Chantler, who has been leading on the project for Cafe OTO, says the idea came about because "lots of people from outside London seem to be checking out what we do and have been buying the vinyl LPs we release. It feels like we have a growing profile outside of our immediate locality and it would be great to be able to give people greater access to what goes on here and … increase the profile of some of the lesser known artists who play here".
Made with love in east London – downloaded across the globe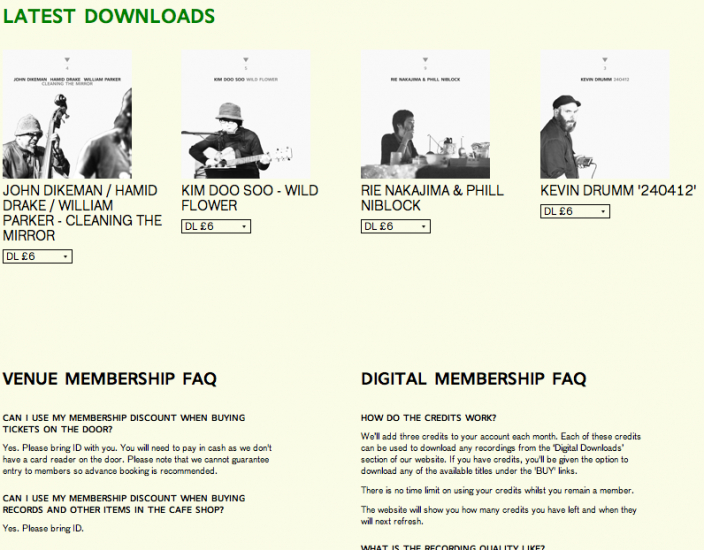 In late 2013, the team at OTO starting making plans for a new website. The plan was to create a simpler experience for customers – cutting out third party ticket sellers and bringing ticket, record and download sales onto the same platform without the need for multiple customer accounts. The new site was also an opportunity to introduce a new kind of membership for the venue where supporters who pay £10 a month can automatically get discounted prices and early previews for shows when logged in to the site. As is often the case with these things, things fell a bit behind schedule but the new site went live in November 2014 and venue membership was soon added in February 2015.
This set the necessary groundwork for the introduction of the digital membership service.  Digital members also pay a fixed monthly amount (£10/mth or £15 together with a venue membership) and in return get to choose up to 3 unique downloadable recordings, made at the venue and professionally mixed and mastered to the highest standards. The service will go live with an initial batch of recordings in July 2015 with further titles queued up to follow in quick succession. Discussions are also in progress with some like-minded record labels about including their catalogues, too.
"As much as we love it, vinyl production is slow, expensive and brutal for cash flow. The digital membership is a great way to accelerate going public with our archives. At the same time it costs us money to do this, too and we want to pay the artists for including their work. We hope people will see that it is good value."
"Whilst things have moved a bit slower than we might have liked over the last year we've now finally ready to go live and we've also got a much better handle on the resources required to keep the service stocked with new recordings. I'm looking forward to seeing what our members want, too – that will definitely inform how we dig through the mass of stuff we have."
"Joining the Dots has been a good forum for talking through our plans and getting feedback on what we are looking to do. We perhaps didn't move fast enough to get the most from it, but it's still been useful and the funding part of the programme has made an essential contribution towards the considerable costs of getting this off the ground"
You can check out the OTO digital membership releases here and find out more about membership here.