Networking, or whatever you want to call it…
We have another 'Off Axis' show coming up this week – a band from Hastings and a band from Wrexham are playing together in Chester. If you've read my previous posts you'll know we're working on a touring network that enables artists to visit new towns and cities for the first time, and play to guaranteed audiences. This show looks like it will be a sell out, and I've a pretty good feeling the bands are going to win over a whole new swathe of fans along the way. It's a simple enough idea – if you haven't heard about it yet you can find out a bit more here.
Yes, we're building a website that sits at the middle of it all, but I often remind myself that as much as anything we're building a community here. It's not just whether the database works, it's about linking together like-minded people. After all, it's the like-minded people that will make the system a success, and finding more of them is still a priority.
We've been from Bristol to Edinburgh to talk about Off Axis, spread the idea and recruit artists. Meeting new people, talking to bands, presenting at conferences, listening to ideas, it's all part of building something new and this got me to thinking about the importance of networking in everything we do.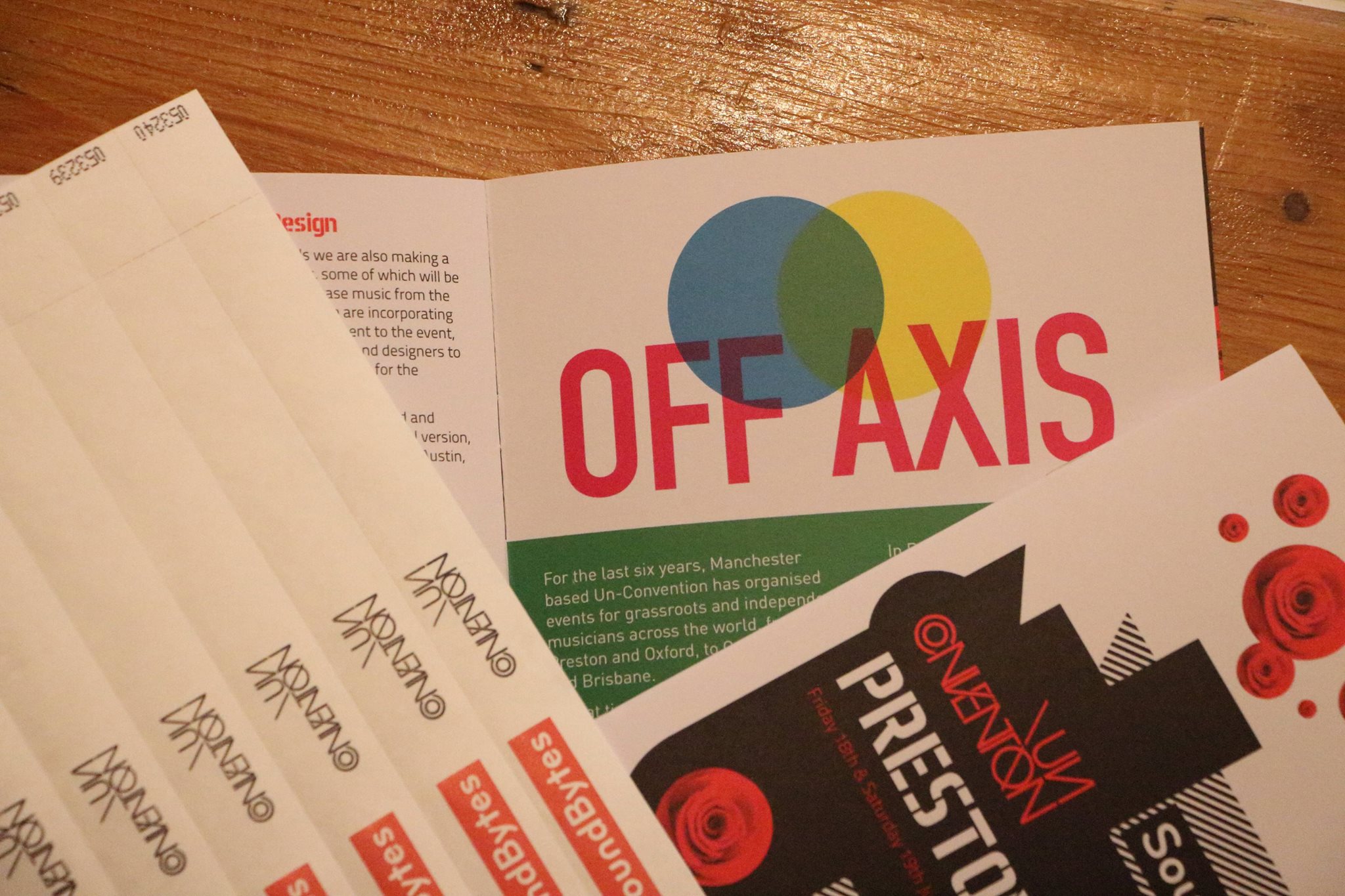 Aside from the Off Axis network, I'm also co-founder of Un-Convention. This morning I've been catching up on emails about an event we're going to have in Guatemala, and a Music Co-op we're looking to put together in Ethiopia. Tomorrow I'll be in Preston for a follow up event from a conference we had last month, and then I go to Stoke to catch up with some more people about an event there. We're also talking about another eight events across Lancashire, Birmingham and Manchester. It's a lot of stuff and every bit of it is a result of networking. And by that I mean turning up at things and talking to people.
SoundBytes Un-Convention Preston – 19th July 2014
Sometimes the word 'networking' seems a bit formal; perhaps it conjures up thoughts of contrived handshakes, doing 'deals' and everyone having an agenda; but whatever you call it – meeting up, getting together, socialising, chatting, making friends – it's vital for us, and anyone working in our industry. I often worry that some bands don't 'network' enough – whether that's with other artists, with venue staff, with audiences. A band wanting to finish a show and then stay backstage when they could be out meeting the people who paid to see them seems ridiculous. What a missed opportunity.
The thing I've learnt about networking is that nothing bad ever comes of it. True, sometimes nothing might come if it at all, other times spectacular relationships and opportunities will blossom as a result, but you'll never be worse off for it. The other thing I've found is it's often the least obvious 'networking' that can result in the most incredible ideas and projects. We're running another new music project in Wythenshawe, Manchester, once Europe's largest council estate, setting up a label with local young people, getting them inside the industry. The project is a result of a chance meeting with an ex-bouncer, Greg, who runs a truly inspirational gym and social enterprise in the area. If I hadn't met Greg for that coffee it wouldn't be happening – it's as simple as that.
So I was delighted when Julia told me that she was organising a Joining The Dots conference in September. Conferences are one of the best ways to get the 'right' people together – attenders as well as speakers. That's very much our motivation for running our Un-Convention events, getting people together to talk, share knowledge, bounce ideas around – it's truly invigorating. The programme looks brilliant – lots of very knowledgeable and interesting people from the music industry (plus I'll be there too to make up the numbers), great panels and I'm sure lots of valuable information and inspirational ideas will come out of the day. What's just as exciting for me though is that it will be full of people who made the effort to come and get involved – and those are exactly the kind of people I want to meet more of. It will be a room full of new opportunities and new relationships waiting to happen. It's events like this that are always the starting points and catalysts for the work we get to do.
If you can make it along I would encourage you to do so. You can hear more about what we're doing with Off Axis, and the other great ideas being developed as part of Joining The Dots, and you can hear from musicians, entrepreneurs, funders and other people making interesting stuff happen. If you do make it along come and say 'hello', and if you can help with Co-ops in Kenya or Hip Hop Projects in Wythenshawe then let me know; or if there's anything I could help you with then it would be great to hear about it. Most important of all though, take the time to meet the people around you. Who knows where it could lead…perhaps there may even be a couple of ex-bouncers around.
Hope to see you there – trust me, nothing bad will come of it.