Balance #1: Why we need to balance our minds to balance our books
Balance is a new series of online talks and drop in sessions we've developed for artists and creative freelancers or entrepreneurs who want to learn how to take better care of their minds and their businesses.  
Our first Balance session this month explored exactly why we – as artists, creative freelancers and entrepreneurs – all need to balance our minds if we want to balance our books, especially during a period of such seismic change and ungoing uncertainty. Joining me to kick the conversation off was Andy Gibson, founder of Mindapples, who works with businesses of all shapes and sizes – from solo-preneurs to bigger beasts – to help them look after the minds of their teams.
We were joined live by close to a hundred people from across the creative sector  – writers, film makers, producers, artists, label managers, make up artists amongst the ranks – from the length and breadth of the UK, from Margate to Cardiff, Bristol to Bradford, and even someone from Biarritz. The conversation – and the chat – was lively, the company great, and the spirit all about curiosity and generosity, as you'll see from the follow up resources we've posted below.
First up though, we wanted to mention our Balance drop in session on 24 June
On Wednesday 24 June (9.30-10.30am) we'll be hosting our first Balance drop in session. It's open to anyone who'd find it useful to trade ideas and inspirations with some fellow creatives who also get the importance of putting protecting your mental health at the top of your to do list.
Hosted by Julia, Ella and Andy, who between them have decades of experience across the creative and mental health sectors (and are all really friendly), the session offers a chance for friends and peers (or hopefully soon to be friends and peers) from across the creative sector to come together to chat, share experiences and hopefully find some support where it's needed. These are tricky times for us all, and the more we share the stronger we'll become. If you fancy coming along, please do sign up here.
Definitely bring a cuppa, and perhaps a slice of cake. Yes, we know cake at before 10.30 in the morning is a bit naughty, but hey this is the 'new norm' right, so cake for breakfast is ok, no?
Here's some we made earlier
If you missed our first talk, don't worry. We've posted it here, in all its Zoom gallery and speaker view glory. Jam packed with insights into why and how to put your mental health at the top of your to do list, watching this could just be the most useful hour you'll spend this week. Watch out to for some awesome hand shapes at the end….
We're also sharing Sarah Singleton's graphic illustration of our conversation. Those of you who joined us live will know all about this; for those of you watching afterwards, this is a drawing of what was talked about, done live as Sarah called in from her studio in Essex. We're so chuffed to have Sarah on board!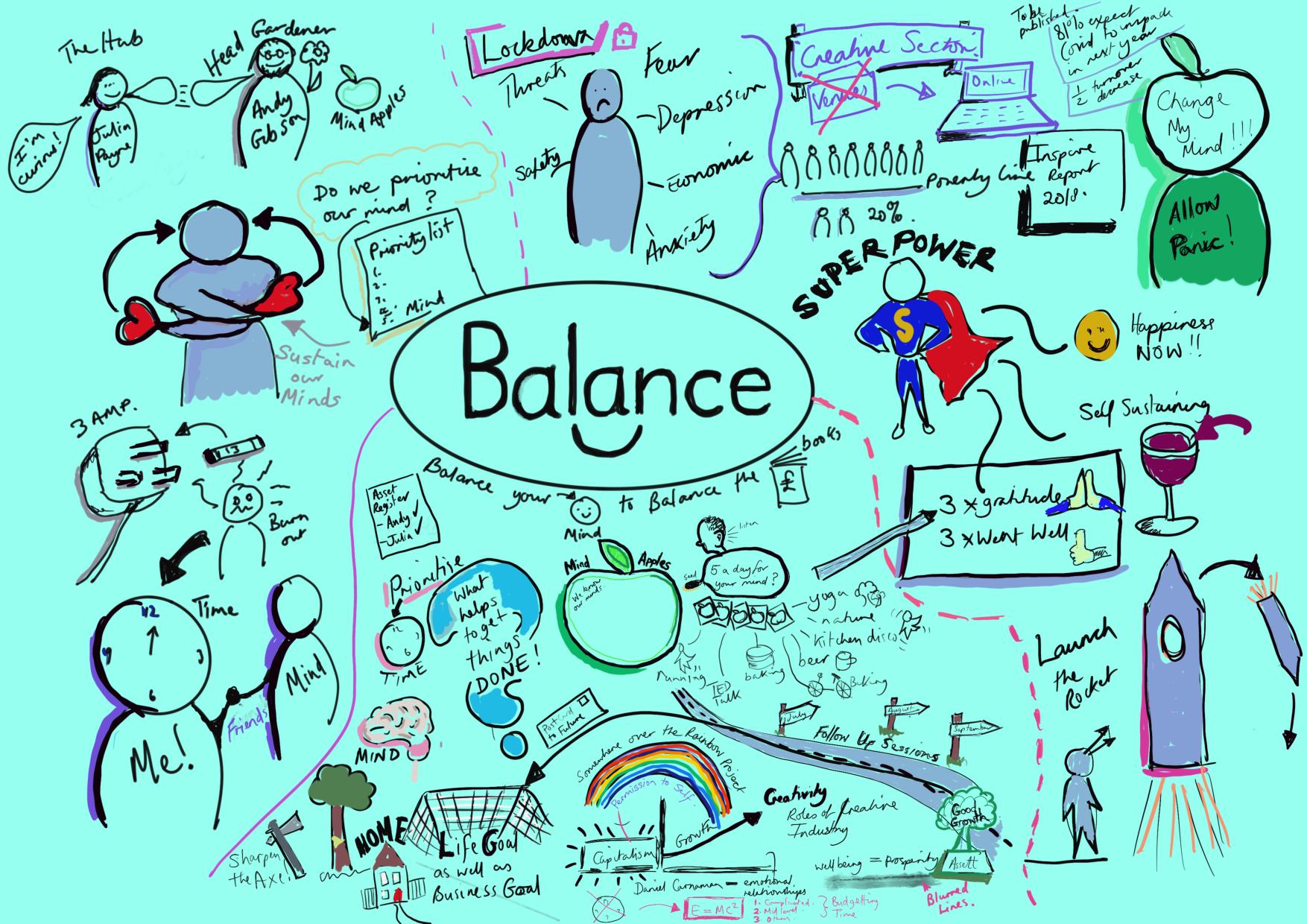 Good reads, sounds and other things some of us love!
It was great to see such a community of the curious and generous spirit in the chat side bar during our session. Thanks to everyone who shared their top reads, listens etc. Here's a quick round up…
First up, I have to share Andy Gibson's two books – A Mind for Business and The Mind Manual – both brilliant reads! Secondly, I mentioned Depressive Illness: The Curse of the Strong, by Tim Cantopher (this is where my 3amp plug/13 amp fuse analogy comes from). I also highlighted two bits of research: Inspire's 2018 Changing Arts and Minds research report and Arts Council England's 2018 Changing Cultures report.
Aby Wojcik from our partner on this project, the Creative Industries Federation, signposted us to a new Fed report that examines the impact of Covid on the creative industries and the Fed's consultation on what the future of the creative industries could look like.
Maria Turley recommended a couple of books, "Neither are new, but both have been incredibly helpful for me". They were The Compassionate Mind by Paul Gilbert, and The Happiness Trap by Russ Harris. I've read the first, and it's great; the 2nd is on my list!
Lorraine Bridges mentioned Busy by Tony Crabbe, which she describes as being "about finding still in a frantic world". I LOVE this book!
Kerry gave a shout out to The Art of Happiness, "A good book to help you with being happy instead of saying you'll be happy when you have a certain job or when you've achieved a certain goal".
Ella Johnston and Ally Wilson name checked The Chimp Paradox by Steve Peters, recommending it "Anyone concerned with self-sabotage".
Last up, Anam suggested Don't Sweat the Small Stuff by Richard Carlson – "a short sweet read about training our minds to be more peaceful".
Onto audio choices, Matthew Linley, Jenny Harris and Melanie Grundy all gave a shout out for Jason Singh's Daily Dose. I'd second that… This is a brilliant dose of music and chat from a lovely human being!
Two meditation app mentions: Mandy Snee recommended Headspace, while Ella Johnston and Tom H both recommended Daily Calm.
Building a Mindapples 'orchard' for the creative sector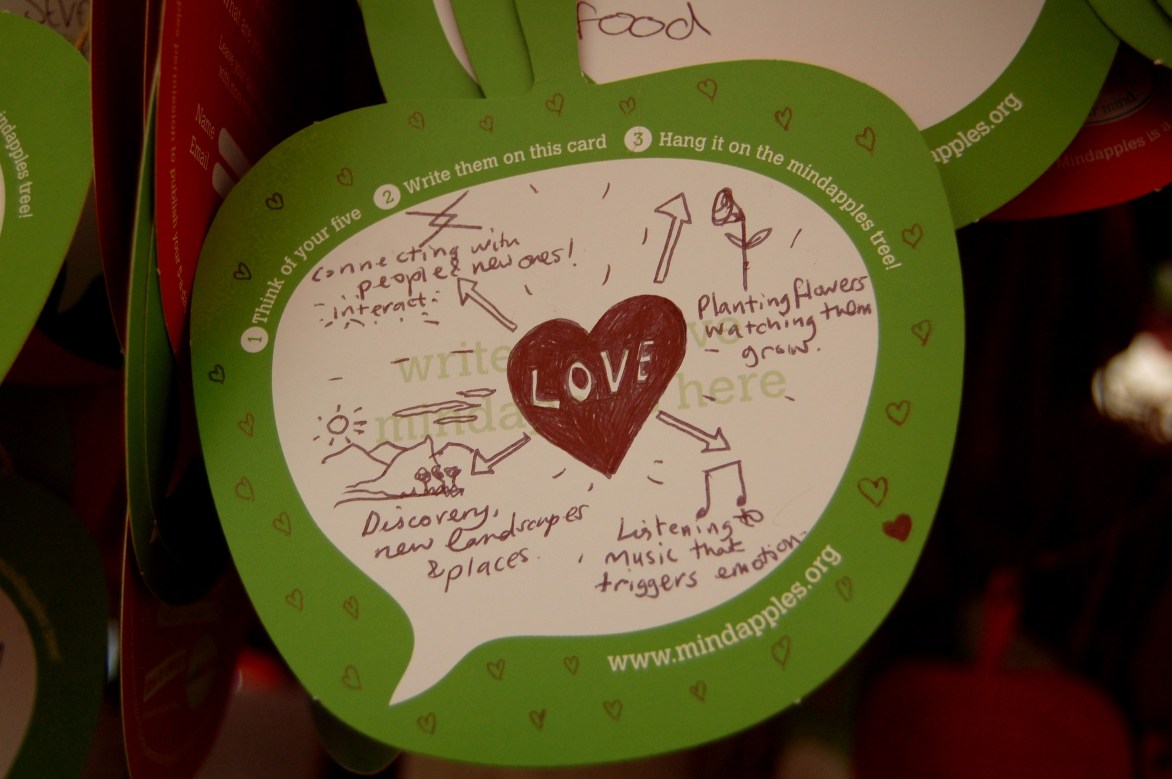 During the session, Andy talked us through how he and the Mindapples team challenge and inspire people to take better care of their mental health. It's a gloriously simple approach (on the surface of it anyhow!). They simply ask people what their 'mindapples' are … what the 5 things are that they do every day, or regularly, to look after their mind. 
We asked our 100 or so participants to share their 'mindapples' with us, and their responses were many and varied – from the heartwarming to the downright unique, from laugh out loud funny to stop you in your tracks beautiful. We've shared them in this blog, in the hope of inspiring loads more people across the creative sector to take better care of their minds. Hope you find them inspiring!
Julia's Mindapples cake
So, in an effort to get #BakingYourMindUp trending, I'm sharing the recipe I used for the (Mindapples) cake I made for the session. Why not make it for our drop in next week? I'd love it if you wanted to have a go at making it yourself, especially as a few people listed baking as one of their Mindapples. If you do, do share it on socials too….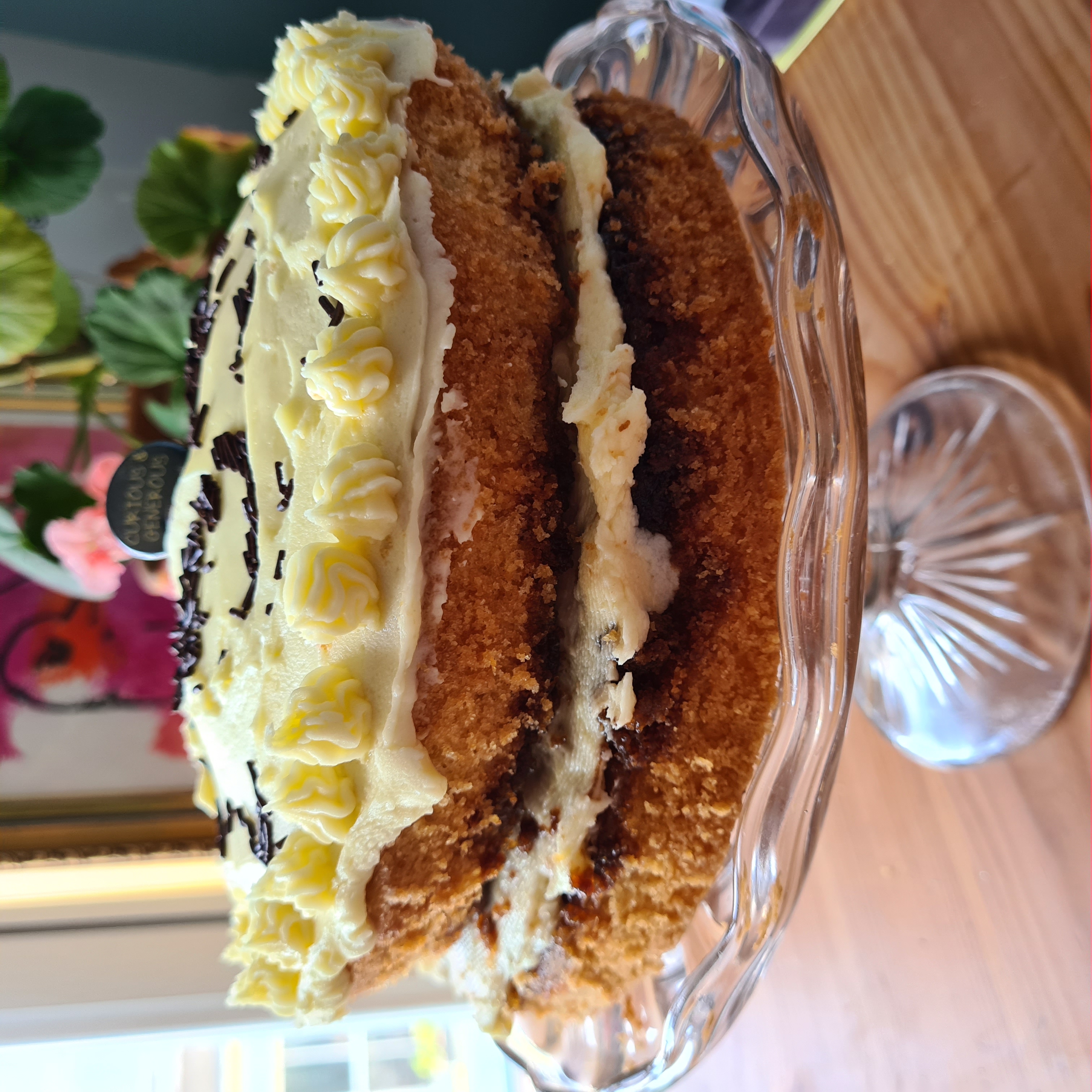 Where to go if you need a bit more help
It's a tricky time all round, so I'm very grateful to the brilliant and lovely Andy Uzzell, who'll be co-hosting our Balance drop ins with me, for puting together this list of people you can get in touch with if you need a bit more help with your mental health.
https://www.mind.org.uk/information-support/helplines/#collapse6cdc2   Contains links to the MIND helplines and contact info.
https://www.mind.org.uk/information-support/guides-to-support-and-services/crisis-services/helplines-listening-services/ Another MIND page with links through to crisis helplines and listening services.
https://www.samaritans.org/ In times of crisis there is always someone around who will listen. Helpline number is 116 123 – open 24 hours a day, 365 days a year.
https://www.mentalhealth.org.uk/podcasts-and-videos/listing A directory of podcasts and videos from the Mental Health Foundation covering all aspects of well-being and mental health. Some excellent podcasts can be found here.
https://www.nhs.uk/apps-library/category/mental-health/ A list of NHS approved Mental Health apps.
https://www.rethink.org/ Mental Health charity with lots of advice and information.
Final thank yous – and a plug for the next Balance talk!
Finally big thanks to some people without whom we wouldn't be able to Balance! Firstly, our programme partners, Creative Industries Federation, and secondly, our funders: the EU-funded South East Creatives programme in partnership with Colchester Borough Council, whose generosity has allowed us to take Balance online.
If you like what you've seen, read and heard, please do think about signing up to our community list to be first in line to sign up for our second Balance talk on 22 July, all about tackling anxiety, building resilience and planning during uncertain times.