WHY IT'S REALLY IMPORTANT YOU CAST YOUR #VOTE FOR MUSIC
With just one week to go till Election Day, it's all getting a bit crazy here at #VoteForMusic HQ. Voting closes on 7 May, with results being announced from The Great Escape on 15 May. Plans are also taking shape for our #VoteForMusic debate, when senior politicians and others will debate key campaign issues. With this set to be one of the first major post-election industry debates, it's all set to be lively!
And that's why it's really important that you get involved and cast your #VoteForMusic. 
We started the campaign to give music fans, musicians and other industry professionals – anyone who cares about music – the chance to lobby politicians about the most pressing industry issues they want the next government (regardless of its political hue) to address.
And when those politicians and senior industry figures gather at the One Dayer on 1 July, the only issues they'll be debating are the ones that people voted for as part of the campaign.
So, the only way to influence what the suits on stage will be debating that day – and remember these will most likely be politicians new to the culture brief, who want to know what's important, where the noise is coming from – is to cast your #VoteForMusic.
It's really easy to vote, and lots of people, like Tom Hingley (above) and Michael Smith (below) have already done so. You can see some other votes here.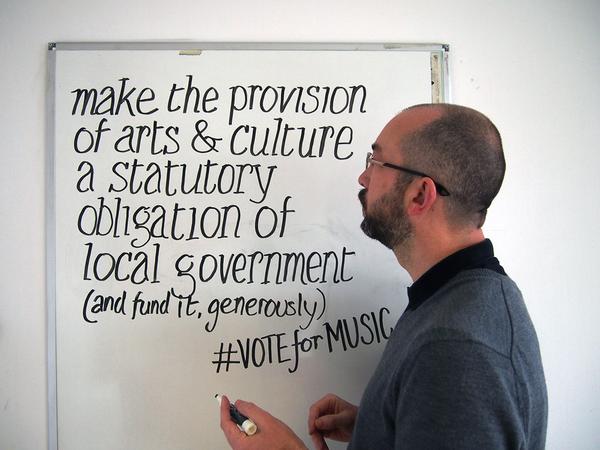 The idea is that you cast your text or photo vote on twitter, facebook or Instagram, and at the same time – a bit like the Icebucket Challenge – you nominate 3 other people to cast their #VoteForMusic too. Here's an example of a text vote and a photo vote:
(For a photo vote) I've cast my #VoteForMusic. Will you do the same @person1 @person2 @person3?
(For a text only vote) My #VoteForMusic is [INSERT YOUR VOTE/ISSUE]. What's yours @person1 @person2 @person3?
It really is simple, and only takes a couple of minutes, and means that you'll be playing your part in sending a very clear message to the next government about what you want them to do to help make our music industry stronger and more vibrant.
So – please – get involved. Cast your vote.
And while you're at it, tell all your friends to cast their too.
Make your voice heard. Have your say.