Eventbox – a new era of music listings is starting but where?
This month's post unveils developments in the Eventbox master plan including where it's all going to start and how venues will be able to share their experiences directly and easily with each other – plus some hopes and dreams along the way.
Eventbox's Dalston, London Plan
The last month has seen us go to town on our Dalston plan. We think our app for discovering gigs, concerts and club nights to go to by listening to listings, will work best if comprehensive.  Dalston has just over 20 music venues. If we had the events for just three venues, or even 10, then are we likely to be truly valued and trusted? Maybe we could be perceived as useful by visitors who don't know the area, but much less by those who do know the area. With this in mind we have decided to launch Eventbox in Dalston only to start with, listing as close to every event as we can get.
Aside from being conveniently on my doorstep, Dalston makes a great place to launch given the staggering breadth of gigs, concerts and club nights that happen there. I wonder if there is another area of the UK where within such a small area you can listen to jazz, experimental, reggae, indie, rock, classical, funk, folk, shoegaze, electro, every type of dance music and more. Its musical diversity is closely matched by that of those involved with the venues from hippies to hipsters to an enthusiastic young raver, an ex-music journalist, a catwalk music producer, to a Vice Magazine supported venue and a venue that's part of the group behind XOYO and The Old Queen's Head.
Click below to hear Joey Baxter talk in more detail about his ambitions for Eventbox.
Our hope is that not only will we help people discover what's happening at venues they already know and events for artists and styles of music they already love, but that we can open up people's eyes and ears to sounds that they would not otherwise have discovered. That listening to music for events happening nearby, knowing they can be seeing the artists on stage within a short distance and time will mean people find themselves heading to events and venues they would not otherwise have visited.
This expanded discovery will hopefully increase the number of gigs, concerts and club nights that people go to. In doing that we can grow the music industry. By growing the music industry, particularly in the long tail, we can help more artists and venues make a living. By making the long tail of the industry more secure, and reducing the financial risks of being an artist for many we also hope to encourage more people to become artists.
Venues venues venues
Though artists and those who go to events are equally as important to us, at the heart of our plan are the venues. They are where the magic happens. They are the foundations and the lifeblood of the music industry. Beyond our app getting their events out to new audiences and so bringing more people through their front door, we are also working hand in hand with venues to provide them other services that will save them time and money, help bring people back to their venue and improve their customers' experience of their venue. I look forward to being able to disclose more about the services we are planning to offer. For now they shall remain under wraps. Safe to say, not one venue we have met with has not been keen to see the ideas proposed happen.
This month we also started the ball rolling toward figuring how to create a way that venues can share their understanding and experience of technology. In its simplest form we suspect this might just be a mailing list where they can ask each other questions about each others' experience with a particular piece of sound equipment, ticketing system, with other new technologies that have hit the market or services like the ones we are planning to offer. We've decided to use one of our breakout sessions at the Joining The Dots One Dayer conference (watch this space) happening in September to have an open discussion with as many venues as possible about how it might best work. If you are involved with running a venue and have any thoughts/comments then please get in touch on joey@eventbox.fm
New Eventbox design
In the midst of the last month's venue hopping round Dalston we have also got close to completing new app designs. They have a new look and feel that we are really excited about. They've been going down well in Dalston. We hope you like them to. The below shows a mock-up for the pop-up that will appear and play music after you have touched an event marker on a map: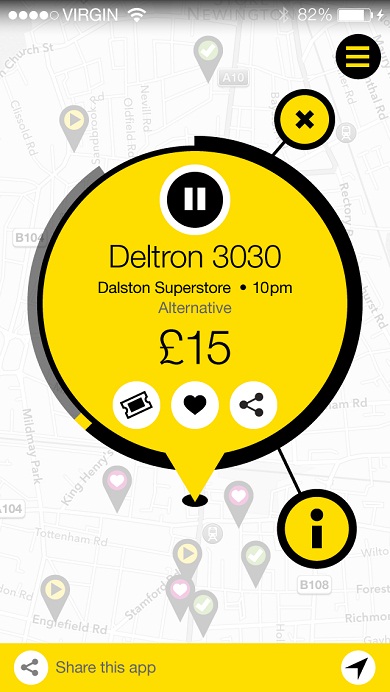 What next?
The upcoming month should see us submit version 1.0 of Eventbox Dalston to Apple. So let's say August some time for launch. In a bid to get some focused time working together, myself and our Chief Technology Officer are disappearing to the Pyrenees to camp out in an apartment for a couple of weeks late July…. Think we might just enjoy some sunshine and fine wine while there! Till next time…..
* Joey Baxter is hosting a Google Hangout with venues from across the UK to find out more about what they want from Eventbox.  To keep up-to-date with the hub's September Conference and other Joining the Dots opportunities sign up to our newsletter or follow the hub on twitter.