Mentoring, Imposter Syndrome, Role Models and More – Report from the Liverpool Open Space
So, exactly how can we how we can begin to tackle inequality in the music industry? This question was the focus of a day of discussion, reflection and debate at the wonderful Constellations in Liverpool last Saturday. A small but select gathering of musicians, promoters, journalists and researchers came together for the second of our Both Sides Now Open Space events – to discuss, galvanise and stimulate positive individual and collective action for change.
We asked attendees to create the agenda for the day by convening their own conversations around a burning issue, question or great idea. Here's what we talked about:
The importance and value of female only events/line ups
What positive action can we take to make 50/50 participation in the industry as a whole?
Representation in management / at a high level
Communication routes, information, change making
Imposter syndrome
How Was It?
At the end of the day we asked participants to reflect on a series of questions and share their thoughts via postcards and to each other. We've typed all the responses up into the following digest – a take away of the key messages from Liverpool.
First we asked attendees to prioritise one key issue from the day: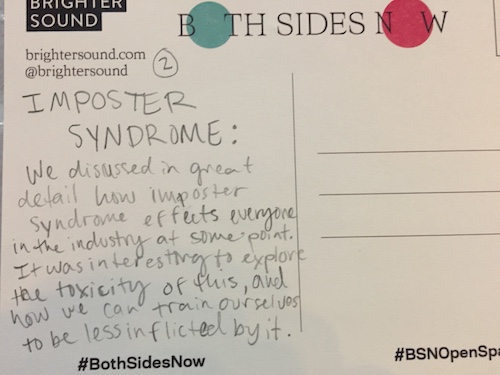 How not normal it is to be a woman (generally) – especially in the music industry
Imposter syndrome – how it affects everyone in the industry at some point. It was interesting to explore the toxicity of this and how we can train ourselves to be less inflicted by it.
Main issue is representation and how to implement equal access to (and fulfilment of) opportunities in music and the music industry – through changing the culture (big ask!), mentors and championing those doing great work
Communication – how do we communicate and are we communicating with the right people?
Communication and making change? The amount of issues has been an eye-opener
There's a lack of awareness and knowledge of female success / role models / talent
The most valuable and interesting topic of the day for me was about imposter syndrome and assumptions based on gender.
How to change attitudes – tied in with the 50/50 issue
Make the key change pledge a social / industry norm rather than a 'pledge'
Not to push men away from gender equality issues but to include them
Education
50/50
The need for culture change
We then asked attendees to tell us what they were going to do to keep things moving as a result of what they heard, said or thought about during the day:
I am going to reflect on the language I use and champion role models in music
Create better networks and highlight the problems
Staying involved and doing my own research project.
Helping and guiding artists in the music industry to the right people and places
II would like to create my own blog to promote girls/women in the music industry. I would also like to attend more talks to learn more about gender equality.
I am going to support and champion more women and minority groups in my area of the industry and push the agenda forward whenever I can
I will keep attending events like this one. I will get better at calling people out.
What I can and will do to keep moving is being present and active as a female representative, championing others and being inclusive – educating and debating others.
Challenge consistently and support others to challenge too (male and female)
I will raise my voice on these issues in the future and fight signs of oppression and misogyny wherever and whenever they appear.
Continue to push and advocate within my workplace
Making these issues more known in my industry by asking questions and suggesting they are dealt with positively
Continue to share information, establish new networks
Was there anything that participants felt wasn't discussed or we could have discussed more?
Gender equality in different genres – why and how can we change this?
What would a truly equal industry look like? Is it even possible?
The wider community aspect – e.g. ways forward, key strategies
The role men can have in feminism and how it would benefit everyone.
The lack of networks and support there currently is
Issues around representation and fetishisation of female artists and how we can rebalance how we view women creators and not unnecessarily sexualise and marginalise them
The lack of cohesive community within music and Liverpool's music scene
I am particularly interested in electronic, niche genres of music so I would particularly like to discuss the issue around artists in that industry and women are seen as sex symbols, not just DJs and not taken seriously as artists.
And How Did People Feel at the end?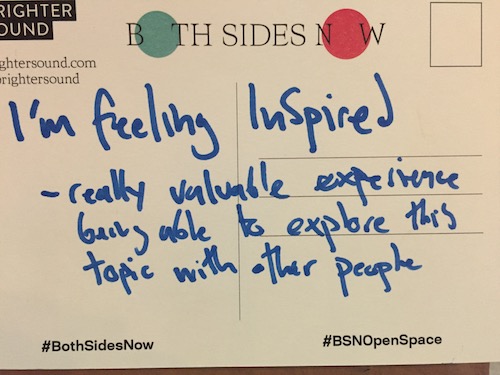 Inspired
Buzzed
I'm feeling inspired and supported. It's amazing to see women and men coming together to talk about inequality in the industry and working towards solutions!
Hopeful, represented and empowered
Very positive – it was great to discuss with like minds!
Cautiously optimistic that change may be coming
Positive that we are collectively working for change
Motivated to highlight the issues and make change
Inspired – really valuable experience being able to explore this topic with other people
Motivated to make change. Confident – the right people have come together who want to make that change
Feeling motivated but still frustrated by how much needs to change in every aspect of the industry
Powerful and encouraged
Inspired to keep learning and create greater awareness about this subject
 We'll be posting more blogs from Manchester and Leeds so do keep an eye on the blog. All these conversations, actions and issues will really help shape and inform our Big Conversation event as part of the Great Exhibition of the North at the Sage Gateshead on the 2nd July. And you're all invited!