Balance#10 – Help! I need somebody… Here's what you missed!
We're stronger together, but knowing how to help can be tricky. And asking for help can be even trickier, especially at times like this, when things are apparently getting back to normal (whatever that is). Sometimes – whether we're the one offering help, or the one who needs it – we are simply our own worst enemies.
As lockdown restrictions continue to ease, things are changing once again. The way we'll be working will change, the way that we can collaborate too. Some people will doubtless find that easier than others. Communicating how we're feeling about yet more change will be key if we want our 're-entry' to be a smooth one.
So, in our latest Balance talk we covered: 
How to identify the support you need to cope over the coming months

How to get better at asking for help

How you can support people who are struggling with the "return to normal"

How to communicate better, and be a better listener

Tips for being a "friend in need" and a supportive colleague

Why good intentions sometimes aren't good enough

How we can encourage open conversations about our minds and well-being going forward

How to work well with other people to share resources and support each other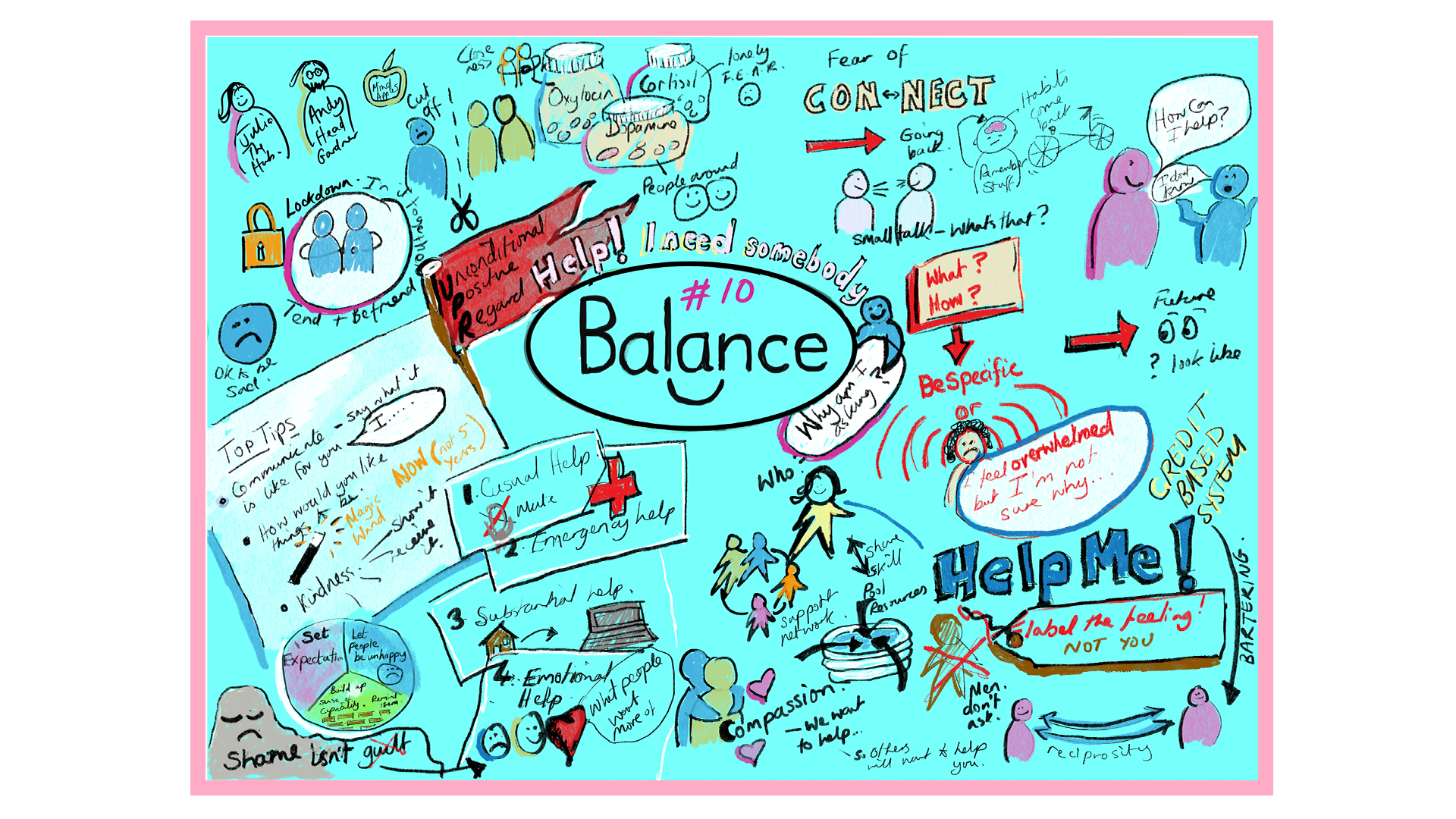 Illustration drawn live by Sarah Singleton.
The community conversation surfaced a few thoughts and themes when it comes to 'help' both in giving and receiving it. The consensus was, we are often better at giving help than asking for it, but actually, this sometimes is difficult too – a few thoughts from those that attended:
"I've come to realise that many people are fixers, rather than listeners. I feel pressure when people try to give advice or tell me what I should and shouldn't do."
"I have two friends with cancer and I am trying to find ways of helping. One of the things I have just realised is, letting them feel useful or helping me is helpful to them because I feel like they are so tired of feeling useless…"
"I find it so hard to not give advice, it is such a skill to do that!"
And in asking for and accepting help; there are a few barriers that came up a lot throughout the session: shame, vulnerability, feeling like a burden to others. Andy & Julia discussed the importance of being clear in asking for what you need, as this will help you manage the desired outcome – it could be as simple as; 'I'd just like to vent to get this off my chest.' 
Around asking for help, people shared the following:
"Shame and pride stop me I guess…"
"I'm afraid that people will start seeing me as incompetent as an older person."
"My best source of support is my friend who I can text and say "I feel bad" and he will say, 'I'm sorry to hear that,' and he does the same and we don't try to solve each other's problems, it's just mostly saying 'yeah feeling bad is rotten'."
Watch again for help with how to give help and how to accept it
If this sounds like something you would benefit from watching (or re-watching) – click on video below. You can also find all previous Balance talks on our YOUTUBE PLAYLIST HERE.
Calling all audiophiles! Listen up for ideas on how to balance your mind…

Calling all audiophiles! The good news is that all of our Balance talks are now available in podcast form on Soundcloud. You can LISTEN HERE. Do spread the word if you know someone who could do with a bit of help taking better care of their mind….
Balance toolkit launch on 14 May…SAVE THE DATE!
We've been sharing our excitement about our new Balance toolkit for the past few months (as well as spendig every waking – and some sleeping – hour on getting it ready!), and now it is only a couple of weeks from being finished. We'll be launching our Balance Toolkit on 14 May, as part of Mental Health Awareness Week (woooooohooooo!). And we'd love you to be there to help us do that…
The toolkit has been designed to provide a heap of practical content to help you and other artists and creative freelancers take care of your mind AND your business. Expect tonnes of video footage, audio content, quick reads and lots of exercises for you to try at home, all of which will help you balance your mind and your books. 
We're planning a special launch event on 14 May, and we'd love you to be there. We're just fine tuning the plans, but we'll definitely be giving everyone who comes a VIP tour of the toolkit! So, do save the  date and keep an eye on our socials or make sure you are signed up to our newsletters here. Hopefully see you there!
Want to join our community of the curious and the generous?
And if you fancy yet more still, please do join our community of the curious and the generous. Sign-up, and we'll keep you posted on all our Balance talks and plans throughout the year.
You can also pop us a hello and follow on Twitter @tweetsatthehub and on Instagram @the_hub_balance for news and a bit of social banter.
A word about our Balance partners
We couldn't make all this Balance magic happen without the support of our brilliant partners – the Creative Industries Federation and Mindapples. We also need to give a massive shout out to Arts Council England, the National Lottery and of course all lottery players for their financial support.