Balance#9 – Forget FOMO! Currently it's all about FOGB – fear of going back
With the government offering us a roadmap out of lockdown, hopes are high within the creative sector that things will begin to right themselves in the summer, and that come the autumn the stage will be set for our music venues and theatres to throw open their doors, for film sets to be buzzing with activity and thousands of us to return to the work we love. But we know enough now to understand that – despite that roadmap – there will be bumps in the road, and that for some people the idea of going back to 'normal' remains impossible.
So, in our latest Balance talk we explored how we – individually and collectively – can begin to forge a new path so that we feel like we're moving forward rather than just simply 'going back'.
Here's what we covered:
Can we get back to 'normal', and do we want to? Or have things changed permanently?
What would we like to keep about the ways we've lived and worked over the past year?
What are our worries about going back – to socialising, to commuting, even to working?
Will introverts struggle more than extraverts? Who needs more support over the next few months?
Are we all experiencing a form of social anxiety, and what can we do about that?
How can we support each other during this transition and ensure everyone is included in the "new normal"?
Missed the talk ? Experiencing a little bit of FOMO?! Fear not…
If you missed out on our FOGB Balance session, maybe you are suffering from a little FOMO? Don't worry though… you can watch it here!
Check out our graphic illustration to get inside the abundance of chat, thoughts and feedback!
As ever, there was an abundance of chat going on in the side bar. This ranged from fears for our physical health and wellbeing if we are solely responsible for our business' income and uncertainty about how well 'hybrid' working will serve us creatives to some positive reflections about what the pandemic has brought about. These included being able to work from home (when before it was stated 'impossible) or a more relaxed approach to work / life balance as organisations recognise and see our family lives through video calls / interactions. For others, working from home – expressed by the introverts and those that aren't neurotypical in the group –  means their mental health has improved through not working in a noisy office.
If you're a visual thinker, you may like this brilliant graphic illustration of our talk, which was done in real time from her Essex studio by our super creative friend, Sarah Singleton….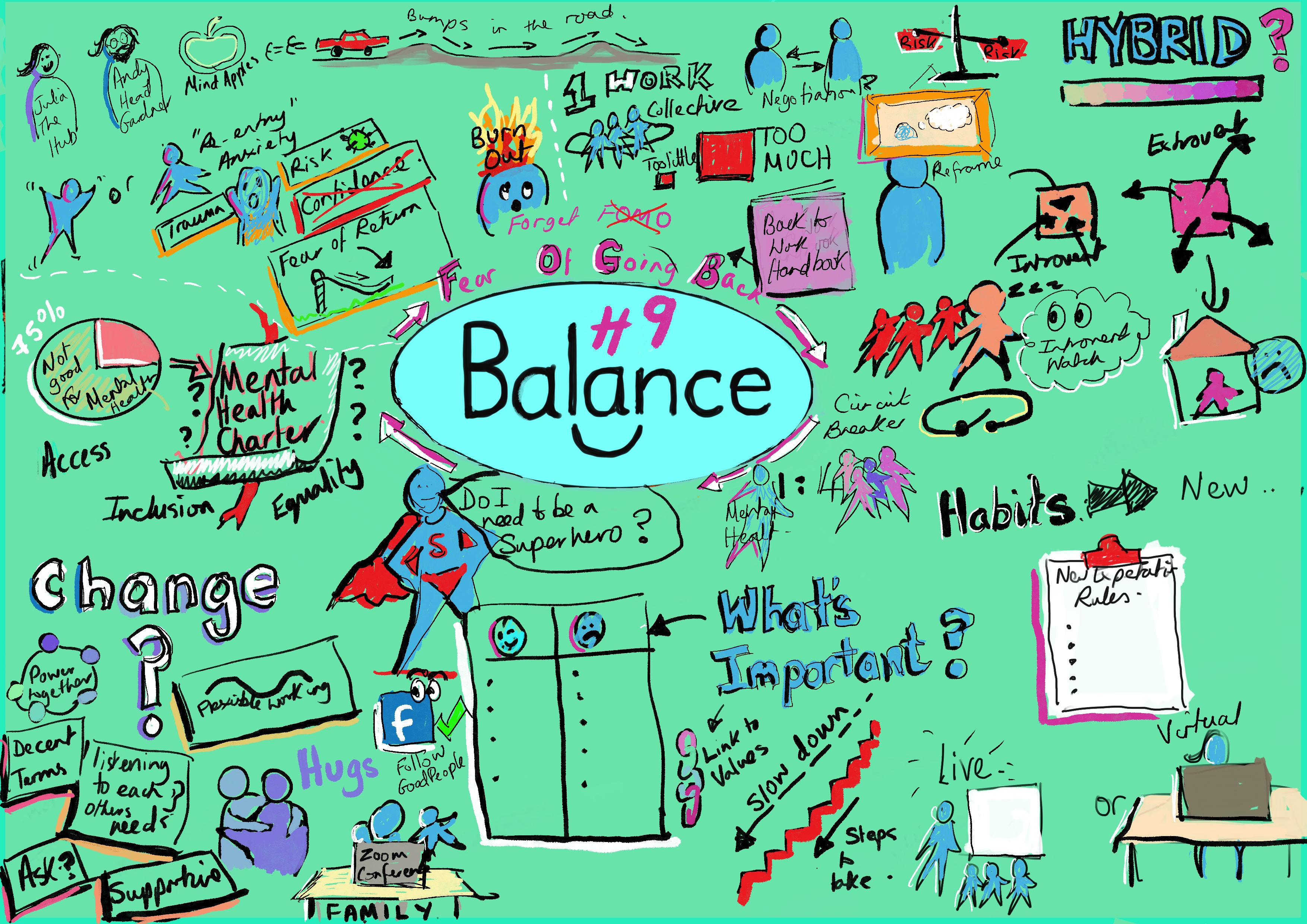 Balance Goodies
Our next Balance drop in session is on 31 March
This friendly and informal hour-long drop in session is open to anyone who'd find it useful to trade ideas and inspirations with fellow creatives who are also trying to put protecting your mental health at the top of their to do list. Hosted by the hub's director, Julia Payne, and former mental health nurse-turned-record label manager, Andy Uzzell, the drop is in happening on 31 March between 9.30-10.30am. It's completely free, but you do need to register, which you can do here.
Training to help you pivot, business plan and look after your wellbeing 
We're currently accepting applications to take part in 3 new courses we're running as part of Balance. Here's the lowdown…
Inventing your Future – all about the art of pivoting and how to chart a new course (deadline to apply: 31 March)
Balance Your Mind – all about how to take better care of your mind, so you can take better care of your business (deadline to apply: 4 April)
Taking Care of Business – designed to take the fear out of business planning! (deadline to apply: 30 March)
All completely free thanks to National Lottery funding through Arts Council England!
Save the date – our next Balance talk is on 28 April!
Our next Balance talk is on the 28 April, so pencil it, mark it, whack it in your calendar. More details coming soon.
Want to join our community of the curious and the generous?
And if you fancy yet more still, please do join our community of the curious and the generous. Sign-up, and we'll keep you posted on all our Balance talks and plans throughout the year, such as our exciting new development – a Balance toolkit that will be available in May.
You can also pop us a hello and follow on Twitter @tweetsatthehub and on Instagram @the_hub_balance for news and a bit of social banter.